Oil Change Columbus, OH

Genesis of Columbus is here to take care of all your vehicle's oil change needs. If you're a Columbus driver who needs a Genesis oil change, you can rely on our team to have this vital aspect of automotive maintenance completed according to your high standards. On top of that, they will work hard to get it done as quickly as possible.
Continue reading to learn about our team, the sort of work that we do, and some useful information about oil changes.
Our Technicians Are Certified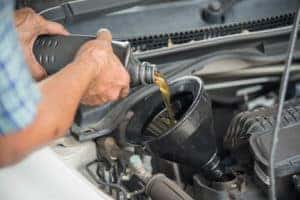 The moment that your vehicle is pulled into the service bay, it will begin to receive the care and attention that it deserves. The mechanics who will be servicing your vehicle are highly skilled and experienced. They are dedicated to making sure it continues to perform at the same high level for years to come.
Comprehensive Care
When it's time for an oil change, there's a broad selection of other tasks that are performed as well. For example, each of your tires, your belts, all exterior lights, and the battery are inspected to make sure they are in proper working order. This is also a good time to have your tires rotated to make sure you can continue to get the most out of them for a long time.
When an Oil Change Should Be Performed
How often this procedure needs to be completed depends on the type of oil that you use in your engine. Newer cars run on synthetic oil that can go between 6,000 and 7,500 road miles before needing to be switched out. Conventional oil can't go as long. If this is what you use, it's recommended that you only travel about 3,000 to 5,000 miles before you have it changed.
Signs That Your Oil Is Due For Some Attention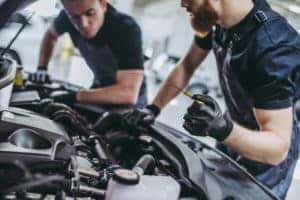 You should keep in mind that the numbers mentioned above are not written in stone. There are factors such as the condition of the road, the way you drive your car, and the climate you drive in that play a big role in exactly where your oil falls when it comes to the recommended intervals. If your oil is beginning to be impacted by any of these, your car has ways of letting you know that this is occurring. A few of these are listed for your consideration below:
Check engine light
Burning smell
Odd sounds
While the check engine light could be an indication that several things might be taking place, an oil issue is certainly one of the possibilities. Similarly, any time you notice a burning smell or banging or clicking noises coming from the vicinity of your engine block, you should stop by a service center to have it checked out.
Schedule Your Genesis Oil Change With Us Today
As you can see, our Genesis of Columbus dealer is fully equipped to provide your automobile with first-rate care when it comes to all of its oil change needs. Contact Genesis of Columbus today to set up a good day and time for your Genesis oil change.