Lease a Genesis G70

If you have your eye on the Genesis G70, the team at Genesis of Columbus would like to introduce you to the benefits of leasing this fine luxury sedan. The following information will cover some of the highlights you'll enjoy as you're making your way throughout the Columbus, Westerville, and Reynoldsburg, Ohio, areas.
After that, we'll go over a few reasons why automotive leasing might be the route to take. Finally, we'll provide a sneak peek into the sort of encounter waiting for you in our finance department. Continue reading to get started.
Shop Our Genesis G70 Inventory
---
Spotlight on the Genesis G70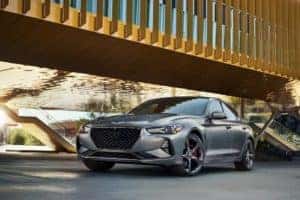 There's a lot of advanced technology inside the G70. First, it provides quite the convenient driving experience. One feature that certainly brings out this point is the available wireless charging pad. Instead of searching for that elusive charger cord when your phone's battery is running low, simply place your device on the pad and wait for the light to indicate it's ready to use.
Technology also plays a large role in keeping you, your family, and your friends safe while you're on the road. Once you've preset the distance you want maintained from the vehicle in front of you, available Smart Cruise Control with Stop & Go will adjust your speed according to the flow of traffic. It can even bring the G70 to a complete stop if necessary and then back up to speed once traffic resumes.
---
Automotive Leasing Advantages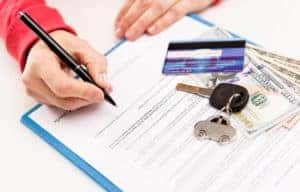 A key benefit of leasing is that, unlike buying and financing, it doesn't require you to pay the vehicle's entire value. Instead, you're only financially responsible for it during the lease term. The result is that the down payment and the monthly payments are likely to be lower.
Leasing on a regular basis allows you to move on to the next new vehicle every few years. This is beneficial if you prefer to have access to the latest technology features for maximum convenience and safety.
When the lease term is over, you'll simply return the car to the dealer and decide on the next vehicle to lease. You won't have to attempt to trade in a vehicle with a reduced value.
---
We Offer Hands-on Guidance in the Finance Department
When you step inside our finance offices, you'll be greeted by one of our friendly specialists. This knowledgeable individual will work closely with you every step of the way. You can count on them to carefully walk you through each of your options, ensuring you're able to choose the lease deal that best matches your budget.
---
Come Lease a Genesis G70 Today
With such attributes as the wireless charging pad and Smart Cruise Control with Stop & Go, the G70 is one impressive vehicle. After reading the above information, if you'd like to know more about leasing the Genesis G70, contact the team at Genesis of Columbus, serving Columbus, Reynoldsburg, and Westerville, OH. We'll get you all set up with a test drive.