Genesis Service Westerville OH

Welcome to Genesis of Columbus. If you're in need of any kind of automotive maintenance, we have you covered here at our Westerville, OH, Genesis service center. Continue reading to get a sense of the sort of experience you can look forward to having here. Don't hesitate to reach out to a member of our team if you have any questions along the way.
---
---
Certified Care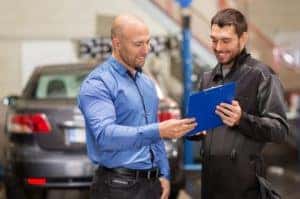 The experts you'll find in our service department are certified, skilled, and experienced. They'll put their know-how to work to provide your vehicle with the right care at the right time. You can count on them to use the latest techniques, equipment, and technologies to produce precise results every time. In addition to that, they'll work hard to get you back on the road as quickly as possible.
We've Got You Covered
Whether you've noticed a burning smell coming from the engine, the engine is running louder than usual, the brakes are squeaking, or it's simply time for a routine task to be completed, we can help. See below for a quick sample of the sort of work we do here:
Engine tune-ups
Tire services
Oil changes
Diagnostic checks
If you're unsure how long you should wait before having your car's oil changed, simply take a look at its odometer. If your engine runs on conventional oil and it's been 3,000 to 5,000 miles since its last oil change, your car is probably due for that service. The synthetic oil you'll find in the engines of newer cars can go 6,000 to 7,500 miles before an oil change will be necessary.
When it comes to tires, it's important to have them rotated every 5,000 to 7,500 miles. This service can easily be added during a typical oil change. Regular tire rotations help promote balanced wear and tear across the surfaces of the tires for a longer lifespan.
How long your brakes can last depends on factors like the quality of the brakes themselves and your driving behavior, so it's important to have them inspected every six months to stay current with any wear and tear.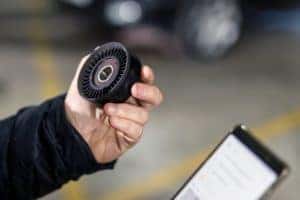 Get Your Parts Here
Whether our team is doing the work or you prefer to handle some auto maintenance yourself, we'll be happy to supply the necessary items. The parts we provide are genuine original equipment manufacturer (OEM) parts. These are the same components originally designed to operate inside your Genesis automobile.
---
---
Genesis Service Westerville OH
If what we've described sounds like the kind of experience you'd like to have the next time you visit a service center, there's no time to waste. All Westerville, OH, drivers can begin reaping the benefits we have to offer. Just contact our team here at Genesis of Columbus to schedule an appointment. We look forward to working with you!