Genesis G70 Trim Levels

If you're a driver in Columbus, Westerville, or Reynoldsburg, Ohio, and are interested in the Genesis G70, you'll be pleased to know that this accommodating luxury sedan gives you plenty of opportunities to customize your driving experience according to your specific preferences. Its five trim levels offer you several useful attributes that you are sure to appreciate.
The team here at Genesis of Columbus has drawn up the following descriptions of the 2.0T Elite, 2.0T Prestige, 2.0T Sport M / T, 3.3T Prestige, and the 3.3T Sport trims. Continue reading to dive into a few of the highlights that sets each one apart.
Genesis G70 2.0T Elite Trim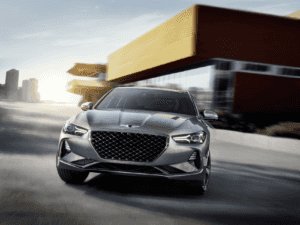 As the base trim, the Genesis G70 2.0T Elite trim sets up the foundation for the rest of the trims to come quite nicely. First, there's the front and rear parking sensors that help keep you aware of how close you're getting to other objects as you're maneuvering the car in or out of a parking space. The power-folding auto-dimming side mirrors are useful in this regard as well. Plus, they effectively keep you from being distracted by reflected light when a vehicle pulls up behind you with particularly bright headlights.
Genesis G70 2.0T Prestige Trim
Next up is the G70 2.0T Prestige trim. When you're behind the wheel of this one, you will have even more handy features at your disposal. Examples include the Surround View Monitor, which supplies you with a clear picture of the area around the vehicle for an increased sense of awareness. There are also the rain-sensing wipers that give you a clear line of sight while also allowing you to maintain control with both hands on the wheel.
Genesis G70 2.0T Sport M / T Trim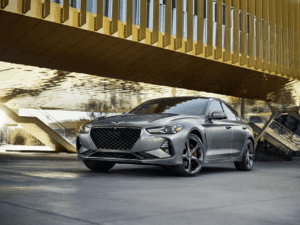 The 2.0T Sport M / T trim continues to take convenience to new heights. For instance, it comes with heated and ventilated front seats that make it possible for you and your front-seat passenger to enjoy comfortable temperatures no matter what the weather might be doing outside.
Genesis G70 3.3T Prestige Trim
The Genesis G70 3.3T Prestige trim gets the folks in the back seats involved with all of this comfort by providing them with heated rear seats as well.
Genesis G70 3.3T Sport Trim
The 3.3T Sport trim is the highest Genesis G70 trim level. It proves this by coming with such stylish touches as head-turning Copper headlight bezel accents and dark tinted taillight covers. On the inside, you'll find stunning Black Nappa leather seats with sport quilting that include your choice of either red or gray stitching.
Experience the Genesis G70 Trim Levels in Person Today

As you can see, the 2.0T Elite, 2.0T Prestige, 2.0T Sport M / T, 3.3T Prestige, and the 3.3T Sport Genesis G70 trim levels each packs a punch. These highlights have merely scratched the surface in terms of what they can do. If you're in Westerville, Reynoldsburg, or Columbus, OH, contact us here at Genesis of Columbus today to schedule a test drive with the trims that pique your curiosity the most.
---